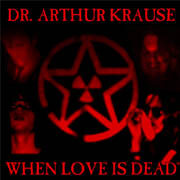 Released
26th Nov 2007
CD-number
MACDL971
Format
12 track CD-Album
Label
M&A Music Art
ORDER WHEN LOVE IS DEAD – CD: M&A MUSIC ART
ORDER WHEN LOVE IS DEAD – DOWNLOAD: KLICKTRACK, Itunes
1. THE ETERNITY FLAME
2. THE LAKE
3. WHEN LOVE IS DEAD
4. HIDE
5. FOLLOW THE SHADOW
6. FORCED
7. FETISH LADY
8. BORN IN RUSSIA
9. FUNERAl
10. DO THE VAMPIRE AND DANCE
11. A HIGHER DIMENSION
12. THE BEGINNING OF THE END
PRESSRELEASE NOVEMBER 2007
DR. ARTHUR KRAUSE – When Love is Dead CD
(MACDL971) One of Sweden's finest in the goth scene, Dr. Arthur Krause, have spent the majority of 2006 and 2007 in the studio, working on the sequel to the debut album "Before and After". November will see the release of their second studio album, "When Love Is Dead", an album crammed with gothic energy and powerful choruses, not heard since the mid-eighties. Music that works the miracle to create images in people's minds, is good music. And "When Love is Dead" is a good album. These 12 songs (and especially "When Love is Dead" and "The Lake") will guaranteed touch the soul, if you only give them the chance. This is not only a classic divorce album about a broken marriage. This is a separation album in many different levels and dedicated to a close friend of Dr. Arthur Krause was murdered.
"Born In Russia", an ironfist of a song, and "The Lake", the first single off the album, are recommended for clubspinning and airplay. Dr. Arthur Krause were appropriately formed in Gothenburg, Sweden, in 2001 and have since the start established themselves as a good live act, featuring Dr. Arthur Krause on vocals, Peter Hageus on guitars, Fredrik "Hell" Thell also on guitars, André Robsahm on bass and programmed drums and keyboards. During the winter and spring the band will hit the road on a new tour including headlining the gothic/dark wavefestival Gothenburg Gothic Gathering on the 23rd November. Dr. Arthur Krause have recently signed to the thirteen13 booking agency in the UK and a larger distributor, cms (Construtive Media Services) for mainland Europe, which will further the band's potential.
"When Love is Dead" will be marketed through a massive internet campaign, including myspace, flyers and adverts in underground- and musikmagazines.