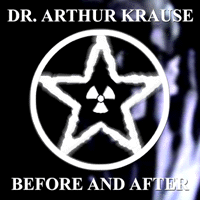 Released
2004-02-23
CD-number
MACDL967
Format
10 track CD-Album & Download
Label
M&A Music Art
Producer
Dr. Arthur Krause
Recorded
2003
JMO STUDIO Gothenburg Sweden
1. INHUMAN LIBERTY
2. NASTASSIA
3. VIOLENCE
4. FADIME
5. BLACK HARD HANDS
6. RARE FLOWERS
7. WHY DO YOU LOVE ME
8. TAKE ME HARD
9. BREAKING IN TWO
10. DREAMING
PRESSRELEASE FEBRUARY 2004
DR. ARTHUR KRAUSE – Before & After CD
Lyric sheet to BEFORE AND AFTER DAKlyricsMACDL967.pdf (165kb)
(MACDL967) Dr. Arthur Krause were formed in Gothenburg, Sweden, in 2001. Two years of gigging and song-writing, combined with a long musical career in other projects, have finally paid off for this hard-working and talented band. The debut album "Before and After" consists of 10 songs with strong influences from the glorious days of the 80´s with both undertones and overtones of goth.
Potential club hits on this release are the "Nastassia" and "Violence". Another strong track, especially recommended for airplay, is "Take Me Hard", a track capturing the band's dark, powerful sound. With "Before and After" Dr. Arthur Krause explore the darkest and weakest sides of human nature. The lyrics are about all doubt that that crosses my mind… and hopefully yours.