New Years Broadcast by Death Rock Radio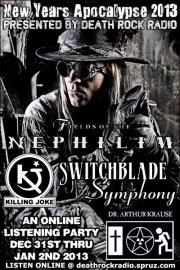 Tune in and burn out. There is a dark future. Our Xth Anniversary gig at Whitby Gothic Weekend 2011 will be broadcast at this very special radio show.
Death Rock Radio Celebrates New Years 2013 with live concert performances with FIELDS OF THE NEPHILIM & Guests Dr ARTHUR KRAUSE, KILLING JOKE & SWITCHBLADE SYMPHONY. We will also have special Dj sets. Be sure to join us for the party. Starts Noon 12.31.12 and runs till 1.2.13 AN ONLINE LISTENING PARTY NO NEED TO LEAVE HOME !!!
http://www.facebook.com/events/518342988184370/520037991348203/?notif_t=plan_mall_activity